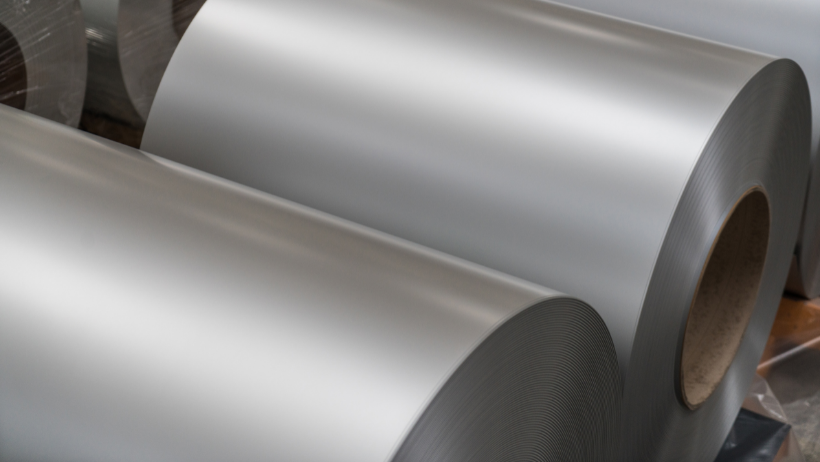 A critical parameter for multiple steel processes is the measurement of bar and strip width. Hot Rolling, Cold Rolling, Pickling, and Slitting are all processes that are dependent on extremely accurate bar and strip width measurement.


In hot rolling, bar width is measured prior to the roughing mill stands to confirm incoming width and to set the side guide system. The side guide system, typically mild steel plate, is responsible for providing a uniform width thru the "bars" length. Bar width is also measured between and after the roughing mill stands as the bar is incrementally reduced down to the customer ordered thickness and cropped prior to the finishing mill. Upon leaving the finishing mill, the "strip" width is measured prior to the coiler to confirm width for the next process or for direct sale to the customer as "hot band".


For cold rolling, depending on the mill type, strip width is usually measured prior to the mill, between the mill stands, and after the mill. Accurate measurement of width in cold rolling is critical because this is the last stage of processing that influences strip width. Errors that occur in cold rolling cannot be corrected in later processes.


Pickling and slitting processes also dependent on accurate width measurement for both quality and to maximize yield. In the pickling process, width measurement is used for side trimming the strip edge. In the slitting process width measurement, it is used to slit the strip into "mults". Both processes depend on accurate measurement of width to maximize yield while maintaining the customer ordered width.


Steel processes are trending to camera-based systems to measure bar and strip width. These systems are extremely accurate and provide real time data. Camera-based systems are also being utilized to detect gross defects, 2D dimensional profiling, and crop optimization.


The Global Gauge Width Gauge is a precision measurement device used to determine the width of sheet or strip products in hot rolling, cold rolling, pickling, and slitting processes. Digital linescan cameras capture images of the edges of the material. Image data is transmitted from the cameras to the processor via fiber optic cable, thus eliminating image corruption issues inherent to older analog systems. Data is processed in a quad core industrial PC running Windows 10, resulting in Width and Centerline Deviation data being instantly displayed on the Operator's Panel. The linescan cameras are enclosed in a robust environmental housing, specifically designed for the harsh environment of both hot and cold rolling mills. The gauge is extremely accurate, highly reliable, and very easy to install and use.


Global Gauge excels in building the best non-contact measurement systems. With our partners in Europe and Asia, we have a worldwide reach. We provide the complete system engineering, design, fabrication, and installation – along with knowledgeable service and availability when you need us, regardless of your spot on the globe.