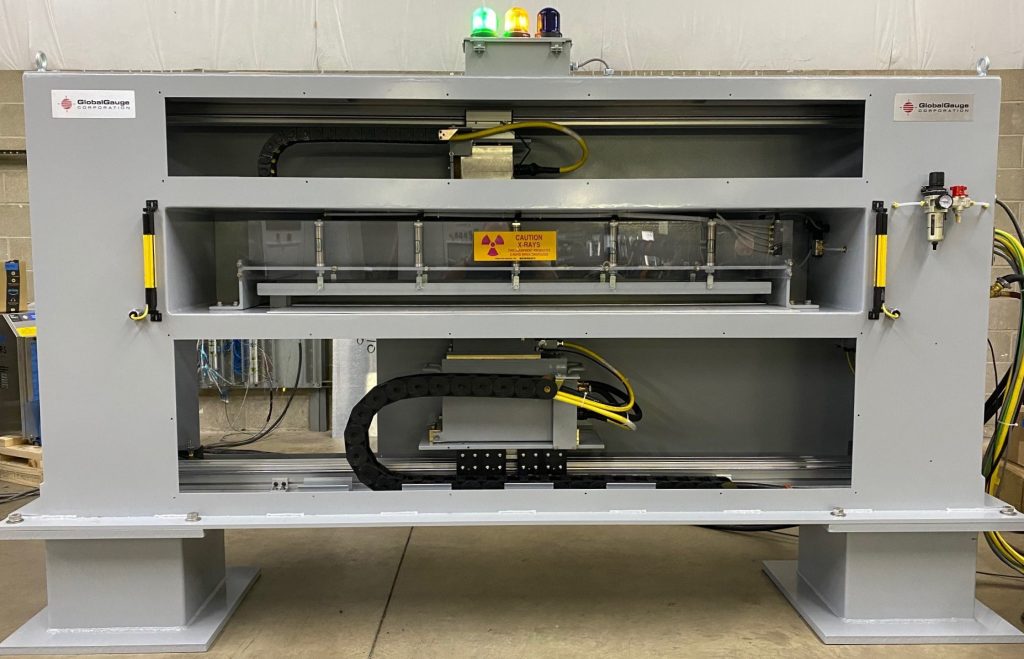 Off-line quality checks to confirm profile thickness of the strip are extremely important for Hot Strip Mills. Not only is the profile thickness confirmed, but the variation in profile thickness from edge to edge is understood. This information allows the Hot Strip Mill to make mill adjustments as well as trouble shoot issues in order to produce a uniform product.


Hot Strip Mills are starting to utilize Off-Line X-ray Thickness Profilometers for conducting the quality checks. The Profilometers are similar to on-line Xray Thickness Profile Gauges with C-frames or O-frames, detectors, and X-ray generators. A sample piece or the head of a coil is put into the C/O-frame and is clamped down. The detector and generator then "scan" the material and confirm the profile thickness and variation in thickness. The profilometers can also be outfitted with lasers to confirm the width of the strip.


Global Gauge Corporation's PC Off-Line X-ray Thickness Profilometer Measurement System has set the industry standard in high performance, quality, and service. Our electronics power cabinet is leading the way with an Industrial PC using Microsoft Windows operating system and Global Gauge Corporation gauge software for our human machine interfaces and communication protocols.


Global Gauge Corporation has over 100 years of combined experience in the metals industry and we are the pioneers of high frequency X-ray technology. Our leading-edge high frequency generators and detectors are designed, manufactured, and tested at our Moraine, Ohio facility. To every extent possible, we build our systems using widely available off-the-shelf components giving our customers a low cost of ownership and the flexibility that is required in today's fast-moving marketplace.


Our highly qualified staff of field service engineers have decades of knowledge and experience with X-ray measurement applications, and deliver world class service 24 hours a day 7 days a week. This service is provided from our Moraine, Ohio facility and our partners in Europe and Asia. Please visit Global Gauge's website to learn more about our X-ray Thickness, Vision, Width, Crop Optimization, and other measurement systems.