Vision-based Systems for Dimensional Measurement and Gross Defect Detection
June 1, 2020
The Global Gauge Vision System is a state-of-the-art camera-based system used to create extremely valuable images of a steel bar or strip. The system can be used anywhere in a steel mill or processing facility, although the most value can be gained from such a system at the exit of the caster, in between roughing or hot strip mill stands. We also see many customers requesting systems for final inspection at the end of plate mills for final dimensional verification of their products before shipment to their customers.

In addition to dimensional measurement, the vision system can generate head and tail images to be used for crop optimization and shear control, generate views of physical and thermal gradients, calculate operational parameters such as deviation from center, camber, and hook, and can alarm the operators in the case of an excessive hook in the bar.


Complete Bar Imaging and Gross Defects

The Global Gauge vision system can be configured to generate a complete image of the top or bottom of the bar or strip in a steel mill. If requested by our customers, Global Gauge will engineer the system to interface with a pyrometer and associate pixel intensity of the pyrometer input to complete a thermal map of the bar or strip. A high-resolution image can be saved to the database for further analysis. See image of thermal profile of a bar below: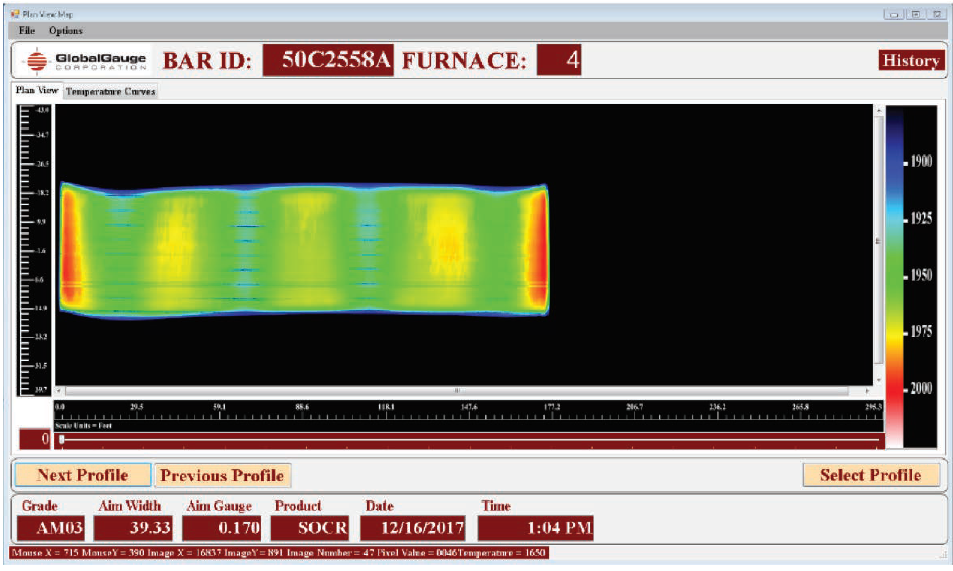 Additionally, Global Gauge's Vision System can identify and alarm for gross defects in the bar or strip. Our standard camera setup can detect defects down to 1 mm in overall size. This has resulted in vision solutions to many customer pains, including, but not limited to:

- Crop Drop Detection
- Hook Alerts on a Bar
- Out-of-Camber Alerts
- Edge Crack Detection
- Many More…

From raw materials to finished products, measuring the dimensions (thickness, width, and coating weight) or detecting defects in your steel or other metals (such as aluminum) continues to be the most effective method of maximizing your process' efficiency and quality, while maximizing yield wherever possible. Whether you are a steelmaker using a blast furnace or an electric arc furnace (EAF), or a small slitting or cut-to-length operation, process instrumentation and automation are essential to meeting your customers' demands.

Global Gauge is recognized as the industry standard for non-contact measurement systems for rolling mills and process lines. We provide custom solutions to all of our customers, delivering millisecond-level response time and over 99.99% accuracy. All of our sensors and measurement systems are manufactured and assembled at our facility in Moraine, OH.

You can count on our service to be prompt and reliable, as evidenced by our 24/7/365 service availability. Our gauges are extremely reliable and dependable, and our service is the best in the industry.

Made in America. Respected Worldwide.